The Death of the CD Player
No CD slot here.
Car audio goes back a long way. Ever since Motorola made the first car radio back in 1930, we have enjoyed listening to just about anything while driving down the road. In the 50's Chrysler even tried putting record players in many of their high end models. These required a very smooth road and some even had a special rotational speed that required you to buy records form the dealership. They were not your standard 45's. It's hard to imagine driving along listening to a stack of vinyl while trying to avoid even the smallest bumps in the road.
When I was a kid, and I mean a little kid, I remember cruising around in the old Dodge van that mom drove listening to 8 track tapes purchased from a local second hand store. The likes of Barry Manilow, Barbara Streisand, and the soundtrack to the Broadway show Hair could be heard loud, and somewhat clear from the two speakers in the dash. We even had a random speaker attached to a wire just floating freely under the back seat of the van. I used to lay on the floor underneath the 3rd seat with my ear to this speaker, rocking out as any 8 year old would.
Nothing like getting lost on the eight tracks
of one continuous tape.
Now before you get the idea that I am that old, I need to remind you my parents drive really old cars. Growing up in the 80's the old cars had 8 track players and the newer, fancier cars had cassette decks. Before long we too had a cassette deck in our Pontiac Parisienne station wagon. The U2, Joshua Tree album sounded really good, as did Depeche Mode, Metallica, and the sound track from the Phantom of the Opera. We listened to a wide variety of music.
I don't remember exactly, but I think that I had moved out of the house by the time my parents had a car new enough to be equipped with a CD player, in fact I'm fairly certain that I bought a car new enough to have a CD player before my parents ever did. This medium, and the stereo in which it plays, has been standard equipment on most vehicle for a much longer time period that anything else, but now that is slowly changing.
The CD player is dead as the standard audio player of choice in cars today. Honestly it has been dead for a few years now. I can't remember the last time I used the CD player in any of my cars, I'm pretty sure it's been years. Today we are to the point where auto manufacturers and even the aftermarket stereo manufacturers are selling car stereos that have no compact disc player.
The CD long box. In case you are
too young to remember
Some cars like the new Jeep Cherokee or any Cadillac, still offer a CD player but its hidden somewhere out of the way and no longer mounted in the dash. If you buy something like a Chevy Spark, or a Kia Soul there is no option for the optical audio drive. These cars come with more modern ways of listening to music, or "books on tape." Cars such as the Spark are designed and built for the youngest drivers among us and this generation is comprised of people who have probably never purchased a CD from a music store and definitely have no idea what a "long box" is.
For many years now most new cars have been equipped with auxiliary audio jacks that allow any MP3 player to play through the stereo. USB ports are also common on most models to allow a direct interface between the car stereo and your iPod or thumb drive. Why carry a big stack of CDs when you can just carry a tiny iPod Shuffle.
Getting even more modern than this, now many cars are equipped with infotainment systems capable of streaming audio via cell phone and Bluetooth. Paring your phone to the car allows you to take advantage of services and apps such as Pandora or I Heart Radio. Some cars even come with a very large flash type hard drive so you can transfer all of your audio and even video files to the car where they are permanently available for play back through the stereo and rear seat video entertainment systems.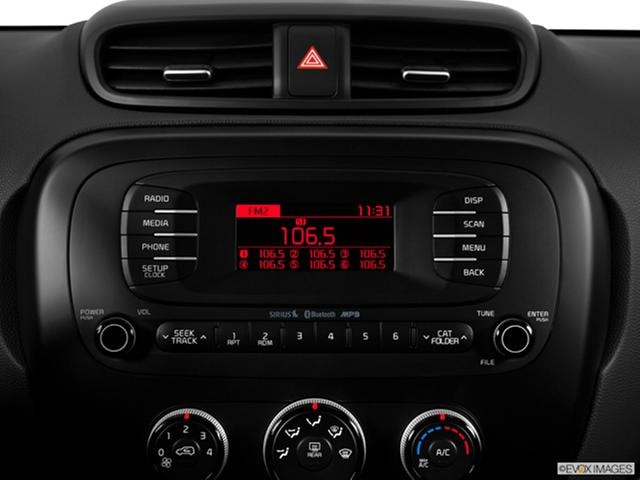 Not CD slot here. 2014 Kia Soul
The death of the car CD player will be somewhat slow as it's expected to be available for a few more years, particularly in vehicles meant for the more seasoned driver. The cassette player died a slow death as well back in the day. The last year this feature was offered in any new car was 2010 and its amazing it lasted that long. I think the CD player will be gone by 2017. I guess we will all have to move on. At least AM and FM hasn't changed…yet.